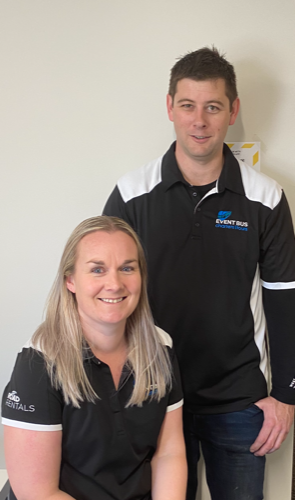 Our Story
Lindsay and Alison Rowley brought their first bus in 2018, originally to teach people to drive and pass their class 2 licences, from there Event Bus Charters & Tours was born and what started out as a hobby, touring clients around Southland soon become a full time job with more buses and vans being added to their fleet of vehicles.
In 2019 Renee, (Lindsay and Alison's daughter in-law) came on board to help out with the demand of tours, social club outings, weddings, sports trips and rentals. After all Event Bus Charters & Tours does do it all!
Mid 2020 Ross and Renee purchased the company (during Covid-19 some might say this is mad!) While Ross still works his everyday job as a truck driver, Renee is hands on working to grow the business everyday.
With Renee bringing her enthusiasm and passion for tourism, customer service, organization skills and variety of ideas into the business as well  Ross working his magic in the background they aim to grow Event Bus Charters & Tours even more.
Being a local, family-owned and operated business with expert knowledge of the Southland region, we pride ourselves on our customer service strive to offer the best experience possible for our clients.
Touch base with us today for your next trip!
WHY CHOOSE EVENT BUS CHARTERS AND TOURS
Local, family-owned and operated.
Expert knowledge of Southland area.
Excellent, friendly and reliable service.
Event Bus Charters and Tours are a division of Road Rentals.
WE'D LOVE TO HEAR FROM YOU
CONTACT US